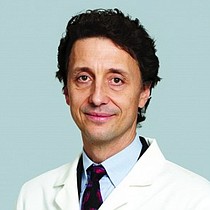 Dr. Roach regrets that he is unable to answer individual letters, but will incorporate them in the column whenever possible. Readers may email questions to ToYourGoodHealth@med.cornell.edu or request an order form of available health newsletters at 628 Virginia Dr., Orlando, FL 32803. Health newsletters may be ordered from www.rbmamall.com.
Recent Stories

DEAR DR. ROACH: My boyfriend recently was diagnosed with an aneurysm. The report says the abdominal aorta is 3.02 cm in largest dimension and recommends screening every six months. Do we need to see a cardiologist for a second opinion? Is there medication to help? -- B.S.

DEAR DR. ROACH: My husband's doctor is telling him to have his gallbladder removed because sometimes he has pain in his right side.

I have seen numerous articles extolling the advantages of eating nuts because they are a good fat. I often have wondered if it matters whether the nuts are raw or roasted.

DEAR DR. ROACH: Recently I was diagnosed with FCS (familial chylomicronemia syndrome) by my primary physician.

DEAR DR. ROACH: After treatment for prostate cancer (with brachytherapy) at age 69 my husband started self-medicating for pain with alcohol.

DEAR DR. ROACH: Is there such a thing as male menopause, with the associated hot flashes?

DEAR DR. ROACH: I am 69 and take medications for blood pressure and cholesterol, as well as plenty of vitamins.

My teens keep smoking all these flavored, ethereal wand vapors. They claim it tastes good and even try tricks with the vapor....

DEAR DR. ROACH: I received the first dose of Shingrix this week and had pretty severe side effects, though in the range of what can be expected: high fever (101.5), intense shivering, a severe headache and 12 hours of extreme fatigue.

To Your Good Health
I recently was diagnosed with kidney cancer, and my wife is now getting treatment for breast cancer. Would cooking on a nonstick skillet have caused the cancers?