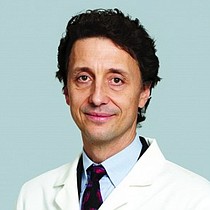 Dr. Roach regrets that he is unable to answer individual letters, but will incorporate them in the column whenever possible. Readers may email questions to ToYourGoodHealth@med.cornell.edu or request an order form of available health newsletters at 628 Virginia Dr., Orlando, FL 32803. Health newsletters may be ordered from www.rbmamall.com.
Recent Stories
My wife is a Type 1 diabetic.
DEAR DR. ROACH: For over two years, my wife has been having a problem with her lower lip.
I have a badly torn rotator cuff on my left shoulder, so that arm is basically a constant problem.
I have just been diagnosed with chronic kidney disease.
After nearly six months of occupational and physical therapy to repair my fractured wrist, my wrist and hand still are extremely stiff and have limited range of motion.
This seems like a common side effect in anyone with dementia, but I have not seen any reports on this.
DR. ROACH WRITES: It is nearly flu season, and I want to discuss the options for vaccines available this year in North America.
DEAR DR. ROACH: I'm a 78-year-old woman with many symptoms of parathyroid disease (chronic fatigue, feel "ill," need naps, less concentration, memory "hesitation," blurred vision), yet the blood tests are not at the confirmation level.
DEAR DR. ROACH: My 46-year-old son has suffered for nearly five years with what seems to be CPPS (chronic pelvic pain syndrome).
Dear Dr. Roach: I am a 77-year-old man who has had erectile dysfunction for eight years.