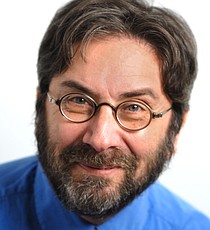 Dick Polman is the national political columnist at NewsWorks/WHYY in Philadelphia (newsworks.org/polman) and a "Writer in Residence" at the University of Pennsylvania. Email him at dickpolman7@gmail.com.
Recent Stories

The lies rain down on us so relentlessly that we're often benumbed.

The pollsters at Pew recently reported that 68 percent of Americans are suffering from news exhaustion, and that jibes with what I witness on an anecdotal basis.

Feel free to tell yourself that Donald Trump chose Brett Kavanaugh for the Supreme Court because the guy went to Yale (Trump reportedly loves Ivy League creds), or because the guy has been thoroughly vetted by the Heritage Foundation and the Federalist Society (the right-wing groups that have long been funneling conservative judges to the bench).
My advice to Democrats - which I've offered for free since the dawn of this century - is that they pound this mantra into their thick skulls: "It's the Supreme Court, stupid."
It may seem crass to discuss the potential political impact of Trump's family separation policy — especially when we can hear the kids wailing for their parents — but we do need to ask:
Well, the so-called peace summit with North Korea has come and gone.
Election day is nearly six months away, and conventional wisdom decrees that Democrats will surf a blue wave and seize the House of Representatives.
The U.S. Constitution has been reduced to a scrap of parchment, rendered irrelevant by the profiteer-in-chief.
Need a break from Trump? Come with me to Missouri.
Whenever I ponder the despicable impotence of the congressional Republicans - especially now, as we lurch toward a national crisis long in the making - I am reminded of a famous poem by T. S. Eliot: We are the hollow men