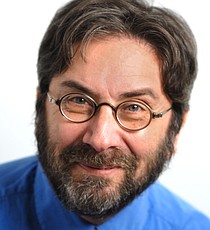 Dick Polman is the national political columnist at NewsWorks/WHYY in Philadelphia (newsworks.org/polman) and a "Writer in Residence" at the University of Pennsylvania. Email him at dickpolman7@gmail.com.
Recent Stories
politician is an animal which can sit on a fence and yet keep both ears on the ground."

The quintessential Ugly American arrived in England on Monday, where it didn't take long for him to hurl insults at London's mayor. But presumably his mood will be lightened by the absence of any American vessels bearing the name John McCain.
Justin Amash, a rare Republican congressman who refuses to genuflect at Donald Trump's feet, has been taking heat lately for daring to speak his mind. But bless his heart, he couldn't care less.

It shouldn't shock anyone if Donald Trump wins a second term in 2020.

If you happen to watch "Veep," the HBO show that satirizes politics, you're surely familiar with Jonah, the notorious foot-in-mouth presidential candidate.

Donald Trump is celebrating his fake "complete exoneration" by pledging anew to throw 20 million people off their Obamacare coverage. Is this guy politically stupid, or what?

Sunday is traditionally a day of rest, but not for habitual liars.

As I soldiered through Chris Christie's spin-memoir "Let Me Finish," I found myself flashing back to September 2011, when he was being widely touted as the GOP's "Next Big Thing." One particular ego-stroking incident at the Reagan Presidential Library must surely be one of his personal favorites.

Are we capable of connecting two dots? The fake border crisis distracts us from the true national emergency: A suspected Russian asset sits in the White House.

Did my ears deceive me? Did I actually hear Pat Toomey, a Pennsylvania Republicans and one of Trump's infamous abetters, actually warn us that the president is a clear and present danger to our national security?