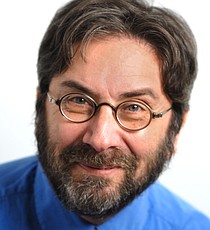 Dick Polman is the national political columnist at NewsWorks/WHYY in Philadelphia (newsworks.org/polman) and a "Writer in Residence" at the University of Pennsylvania. Email him at dickpolman7@gmail.com.
Recent Stories
The U.S. Constitution has been reduced to a scrap of parchment, rendered irrelevant by the profiteer-in-chief.
Need a break from Trump? Come with me to Missouri.
Whenever I ponder the despicable impotence of the congressional Republicans - especially now, as we lurch toward a national crisis long in the making - I am reminded of a famous poem by T. S. Eliot: We are the hollow men
I hold this truth to be self-evident: If the dead Austin bomber had turned out to be a Muslim, Trump would be interrupting his current presidential duties to rail anew about the urgent need to thwart dangerous foreigners with walls and travel bans.

It's surely the dream of every red-blooded American kid to grow up and be sued by a porn star.
Nobody is more stunned about the stratospheric sales of "Fire and Fury" than the guy who wrote it.
It's admirable, in a way, that so many left-leaners are calling for Al Franken to quit the Senate.
Donald Trump has dumped all his macho stump rhetoric about China and morphed into a wimp.
Bravo to the Republican senator who stood tall in the chamber and assailed a Republican demagogue for his disgraceful reliance on "the Four Horsemen of Calumny — Fear, Ignorance, Bigotry and Smear."