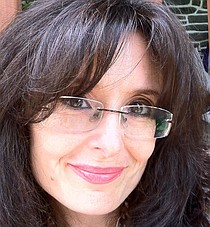 Christine Flowers is a Philadelphian who loves the Eagles but can leave the cheesesteaks. She writes about anything that will likely annoy the majority of people, and in her spare time practices immigration law (which is bound to annoy at least some people.) She can be reached at cflowers1961@gmail.com.
Recent Stories

Last week, I got an email from my friend Chris Casazza, a partner with the immigration firm Solow, Isbell and Palladino in Philadelphia. He reached out to tell me about something that had happened to a former client, and he hoped that I could tell the story.

It's been a week since 31 people were murdered in two mass shootings within 24 hours. Despite numerous differences between the two horrific incidents in El Paso, Texas and Dayton, Ohio, there was a crucial common denominator: hysterical public reaction.

When faced with two women who each claimed to be the mother of the same child, King Solomon announced that he would slice the child in two and give half to each claimant. One woman was pleased. The other wailed in sorrow, and begged the king to give the child to her opponent.

As former Vice President Joe Biden has embarked on his latest campaign for the presidency, I've been reminded about why I left the Democratic Party three years ago, after having been a member since 1980.

Recently, I found myself standing in front of my old house in Philadelphia. From 1966, when I was 4, until 1969, when we moved to Delaware County, I lived in the two-story quasi-Victorian on the 5400 block of North 12th Street.

After hundreds of Roman Catholics were killed in an Islamist terror attack last Sunday, Hillary Clinton tweeted out the following:

The first time I saw it, I could barely breathe. It was so beautiful against the cerulean sky. Our Lady of Paris.
When I found out that Kirstjen Nielsen was resigning as Human Services Secretary, I posted this on Facebook: "If the Cruella de Ville of the border isn't tough enough for Trump, I'm thinking we won't be getting another DHS secretary, for lack of qualified applicants.

About the time that the #MeToo movement really started to get traction in 2017, I compared it to the Salem witch trials.
The most troubling thing about the end of special counsel Robert Mueller's investigation was the reaction of so many on the left when they learned that Donald Trump was not a Russian asset. They were, to put it mildly, disappointed.