Church News: Week of March 10, 2018
Originally published Saturday, March 10, 2018 at 06:00a.m.
ECKANKAR, The Path of Spiritual Freedom – We cordially invite you, friends, and family to the "Sound of Soul" event at the Prescott Public Library on Saturday, March 10. It will be held in the Elsea Conference Room from 10 to 11 a.m.
This is an opportunity to connect one-to-one with friends and neighbors and share spiritual experiences and stories from the heart in a comfortable relaxed atmosphere. We will begin with sharing an ancient love song to God, HU (pronounced hue), followed by open spiritual conversation. Light refreshments will be served.
Sound of Soul events are sponsored by Eckankar in Arizona. For further Information on Sound of Soul events, visit eckankarblog.org/2017/02/hu-a-love-song-to-god.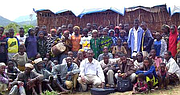 Alliance Bible Church hosts Missionary Evangelist Asfaw Bekele from Ethiopia this Sunday at its 10:30 a.m. service. Over the past 10 years, 80 churches have been planted in Ethiopia with over
30,000 believers now attending. Come hear stories of God's amazing work from this gifted and powerful speaker. Alliance Bible Church is located at 2601 W. Iron Springs Road in Prescott. For more information, call 928-776-1549 or visit www.abcprescott.com.
"Human Rights for Corporations?" will be the topic at the 11 a.m. Sunday service at Prescott Unitarian Universalist Fellowship. Michael Adcock and Loring Cannon, volunteers with Prescott Area Move to Amend, will explain how corporations won the same rights ordinary citizens have, and how we can change that with a 28th Amendment to the U.S. Constitution. Jonathan Best will add his unique music to the service.
"Formed in September 2009, Move to Amend is a coalition of hundreds of organizations and hundreds of thousands of individuals committed to social and economic justice, ending corporate rule, and building a vibrant democracy that is genuinely accountable to the people, not corporate interests." (https://movetoamend.org). They are working toward passing an amendment to the Constitution to state that inalienable rights belong to human beings only, and that money is not a form of protected free speech and they can be regulated in political campaigns. The Prescott Branch of Move to Amend was formed In June 2012.
All are welcome to join with Beit Torah Jewish Congregation (www.onetorah.org) in selling your chometz [food not kosher for Passover]. We are also looking for a volunteer to host a Passover Seder. Due to auto accident injuries, Rabbi will not be hosting a Community Seder this year. For details and directions, call 928-237-0390, 928-227-0582 or email ansheitorah@cableone.net.

First Congregational Church will focus on International Women's Day on Sunday. The progress and plight of women around the world will be highlighted. Musical guests will be Joell Gall and Jen Harvey. They will perform "Pearls" by Sade.
First Congregational Church continues its Lenten series on "White Privilege" at 5:30 p.m. Wednesday, March 14. The topic will be "The Cash Value of Whiteness." Bill Bryant leads the series. He is Founder and CEO of BetterRhetor, an educational resource company aimed at better preparing students for college-level academics, regardless of income or background. He earned a Ph.D. in American Studies from the University of Iowa.
American Lutheran Church's midweek Lenten services focusing on The Lord's Prayer conclude at 7 p.m. Wednesday, March 14, in the Sanctuary, 1085 Scott Drive, Prescott. Rev. Eugene Grimm will share "Forgive Us Our Trespasses…" Maundy Thursday service, at 7 p.m. Thursday, March 29, will center on the Last Supper, and Holy Communion will be celebrated. The altar will be stripped to demonstrate the bareness of the cross and help us reflect on the emptiness of the world without Christ. Good Friday, at 7 p.m. March 30, will feature Tenebrae worship, a Service of Darkness, which will provide a powerful liturgical drama that will walk us through the events of Holy Week from the triumphant entry on Palm Sunday to the Crucifixion and tomb of Christ. Music will be presented by Sanctus Choir and Peals of Praise handbell choir. Visit www.americanlutheran.net or call 928-445-4348.
Come join in the fun at our St. Patrick's Dinner at 5 p.m. Saturday, March 17. Good food and great entertainment for only $12. Proceeds go to summer camp scholarships and charities. Tickets will be sold at the door. Prescott Valley United Methodist Church, 8944 E. Sommer Drive, Prescott Valley. Call 928-772-6366.
American Lutheran Church, 1085 Scott Drive, Prescott, presents Puppet Mania at 6:30 p.m. Friday, March 23, in the Fellowship Hall. Free and open to the community, ALC's Good News Puppets will treat all ages to songs, audience participation, and a story that celebrates God, Jesus, and the Holy Spirit as our main sources of happiness and joy. All are invited to come and celebrate God's constant presence and love for us. Visit www.americanlutheran.net or call 928-445-4348.
Jane's Hope is a Christian ministry open to women who have relinquished a child through abortion or adoption, to share, heal, support each other and experience forgiveness through Jesus Christ. The next meeting will be held at 10 a.m. Saturday, March 24, at The Porch, 226 Montezuma St. For more information, call Prescott Christian Church at 928-445-0680 or email maryannwinslow1@gmail.com.
Mt. of Faith Lutheran Church, 20135 E. Stagecoach Trail, Cordes Lakes, will host a Good Friday service at 6 p.m. Friday, March 30. There will be a Sunrise Easter morning service, at 6:15 a.m. April 1. Breakfast will be served at 7 a.m. There will be an Easter egg hunt at 8. Communion Service will be at 9.
Come praise and worship our Risen Lord Jesus!
American Lutheran Church, 1085 Scott Drive, Prescott, will celebrate Easter Sunday, the Resurrection of Christ, on April 1. Traditional worship services will be held in the Sanctuary at 6:30, 8, and 10:30 a.m. Contemporary worship services will be held in the Fellowship Hall at 9 and 10:30 a.m. Holy Communion will be served at all worship services. An Easter Egg Hunt for children – toddler through grade 5 – will be held on the lower level lawn at 9 a.m. The Good News Puppets will kick off the event. Children are encouraged to bring a basket and enjoy the fun! Visit www.americanlutheran.net or call 928-445-4348.
"Food, Faith and Climate Change" – Arizona Interfaith Power and Light, in cooperation with Prescott United Methodist Church, 505 W. Gurley St., Prescott, is pleased to present a three-part series and discussion on the connections between food, faith and climate change at 6 p.m. April 11, April 25 and May 9. Please contact the church office to reserve your place, 928-772-1950. This will be a wonderful opportunity to dialogue on the role of food in our faith and culture and the impact of our entire food system, from seed to table, on climate change, with a look into how changing our lifestyle and eating practices will heal and save the planet. Learn how local groups are involved in making a difference on these important issues. Join us for fellowship and inspiration.